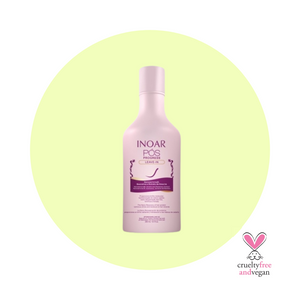 Clearance POS Progress Leave-In
POS Progress Leave-In
Product expires in July 2023. Price is reduced to sell quickly. No refunds or exchanges. Limited to quantity in stock.
The POS Progress Leave-In has a balanced pH that effectively combines ingredients such as Nanosericin®, Keratin, and Rosemary extract, to provide Nano-recovery of hair strands. It improves elasticity and hydration while rejuvenating the scalp to enhance hair growth. This formula also provides an anti-static effect that is ideal for styling and finishing hair, producing an incredible smoothing effect.
The POS Progress system, including the Leave-In product, helps promote a longer life span to the Inoar keratin treatment while nourishing the hair and giving the Keratin an extra boost to perform at its highest potential. The POS Progress keeps the hair looking silky and shiny while protecting from damage caused by blow dryers and flat irons.
The POS Progress product line is recommended anyone that has done any keratin treatment, including the Moroccan, Ghair or BotoHair Smoothing Treatments.
For best results, use in a regular hair-care routine that includes the POS Progress Shampoo and Conditioner.
250 ml bottle (8.45 fl oz)
 Vegan products. Not tested on animals. 
---
We Also Recommend