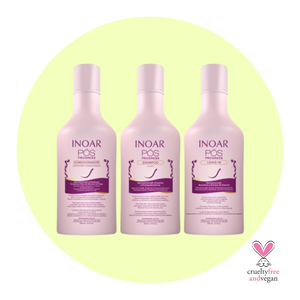 Inoar POS Progress Bundle
POS Progress Home Care Bundle
This bundle includes the POS Progress Shampoo (250 ml), Conditioner (250 ml) and Leave-in (250 ml). This is the perfect bundle to help you care for your hair after a keratin treatment. It will help the treatment last longer and keep it looking great between salon visits. 

The POS Progress Sodium-Chloride free shampoo, conditioner, and leave-in promote a longer life span to the Inoar keratin treatment while nourishing the hair and giving the Keratin an extra boost to perform at its highest potential. The POS Progress keeps the hair looking silky and shiny while protecting from damage caused by blow dryers and flat irons.
 Vegan products. Not tested on animals. 
---
We Also Recommend