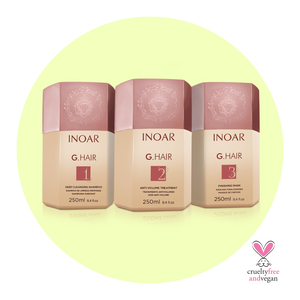 Clearance GHair Keratin Smoothing System 250 ml Kit
Part of this kit expires in 2023. Step 2 expires 9/23 and 11/23. Price is reduced to sell quickly. No refunds or exchanges. Limited to quantity in stock. 
Ghair Deep Cleansing Shampoo expires in 2025
Ghair Anti-Volume Treatment expires 9/23 or 11/23
Ghair Finishing Mask expires 2025
PRODUCT INFORMATION

The G-Hair Keratin Smoothing System is an incredibly powerful treatment that delivers fantastic results, making it a perfect match for even the frizziest, curliest type of hair. This revolutionary formula infuses Keratin deep into the hair's cuticle, promoting intense hydration and remarkable shine. Unlike other salon services, the more often hair is treated, the healthier it becomes. With each treatment the absorption of Keratin protein makes the hair easier to manage with its improved texture, and reduce up to 95% of frizz and curls.

Product available in two sizes, 1 Liter (33 oz) and 250 ml (8 oz). Each kit contains a bottle of deep cleansing shampoo, a bottle of anti-volume treatment and a bottle of finalizing hair mask in the designated size.
For Professional Use Only.
We do our best to ship orders within 24 hours of when they are received (M-F) and weekend/holiday orders on the next business day. When selecting an expedited shipping option, please take into consideration order processing time.
---
We Also Recommend