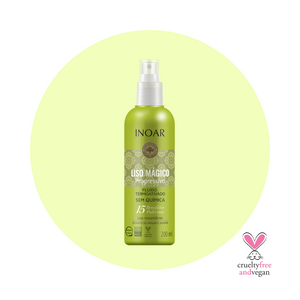 Inoar Straightening Magic - Liso Magico
This new product from Inoar is now available in our online store! We are so happy to offer you a product which can be used at home to achieve the smooth, silky look you used to only get at a salon! 
The thermo-activated fluid works well for both natural or chemically-treated hair. The vegan formula, with jasmine extract and argan oil, moisturizes, eliminates frizz and naturally aligns the hair strands. This at-home straightening aid benefits your hair in 15 ways, including:
Botanical and Vegan
Progressive Effect
Hydration
Ultra-Brightness
Thermal Protection
Extreme Sealing
Zero Frizz
Color Protection Help
Protection Against Humidity
Long-lasting
Nutrition and Restoration
Looser and Softer Strands
Instantaneous Smoothing Effect
Free of Dyes and Parabens
Split End Repair
To apply: With damp hair, spray the product on the length of the hair, scalp to ends. Blow dry the hair. If desired, finish with flat iron once the hair is completely dry.
Product contains 200 ml (6.76 fl. oz.).
---
We Also Recommend