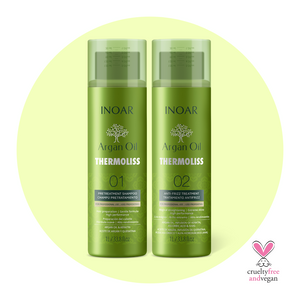 Argan Oil Thermoliss Professional 1 Liter Kit
PRODUCT INFORMATION
This revolutionary professional straightening treatment features a vegan shampoo and anti-frizz treatment that reduce volume and smooth strands with a blend of botanical oils and organic acids. Thermoliss Anti-Frizz Treatment realigns hair fibers and reduces frizz by nearly 80% percent after the first application with results lasting up to 12 weeks. 

How to use:
Wash hair 2-3 times with Thermoliss Pre-Treatment Shampoo (step 1 bottle), massaging for approximately 2-3 minutes
Rinse thoroughly and remove excess moisture with a towel then gently comb hair
Comb Thermoliss Anti-Frizz Treatment (step 2 bottle) through each strand. Depending on the hair texture, let the Treatment sit for 40-50 minutes and then rinse.
Brush hair thoroughly with blow dryer
Divide hair into 4 parts and use a flat iron, passing over the hair 7 to 10 times, in very thin locks
Product available in a 1 Liter (33 oz) size. Each kit contains a bottle of clarifying shampoo and a bottle of treatment.
Shampoo expires 1/2024; Treatment expires 7/2024
For Professional Use Only.
We do our best to ship orders within 24 hours of when they are received (M-F) and weekend/holiday orders on the next business day. When selecting an expedited shipping option, please take into consideration order processing time.
---
We Also Recommend